PLEASE SUPPORT US BY PLAYING THE WEATHER LOTTERY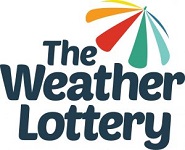 Play the Weather Lottery
Play the Weather Lottery and select Stokenchurch Dog Rescue cio as your chosen charity which will then donate directly to Stokenchurch Dog Rescue CIO benefitting the dogs in our care, plus it gives you the chance to win a £25,000 jackpot every week!
How does it work?
You can get a leaflet from our kennels and go directly to the Weather Lottery site by clicking the link below and signing up directly.
Click here to play the Weather Lottery
When you join, you'll be given a unique 6-digit Lucky Number to be entered into the weekly Weather Lottery draw. If you choose more than one entry, you'll be given a separate Lucky Number for each entry. The Weather Lottery result is based on the last digit of the Fahrenheit temperature from 6 popular European destinations.
If your numbers match the last digit of the daily Fahrenheit temperatures (in the right order) of Corfu, Athens, Vienna, Tenerife, Athens and Stockholm. you can win between £2 and the top prize of £25,000!
Players must be 16 or over.

How much does it cost?
Each entry line (i.e. each set of 6 numbers) costs £1 per week (20p per day). You pay monthly by standing order.

How do I know if I've won?
You can check your numbers by clicking the RESULTS CHECKER here, in the Daily Mail or by calling 0113 275 0002.
However, there is no need for you to check them as all prizes are guaranteed and sent out automatically.
Click here to play the Weather Lottery
Click her for full Terms and Conditions